Information on how to renew your policy with the insurance provider VUMI
In order to renew your VUMI policy, you will need the following:
Policy number - You can find this on your certificate of coverage sent by VUMI. (Your renewal notice will also have your policy ID.)

Credit card information (CC number, expiration date, security code, billing address)

Premium total

Email address
Your welcome email will be from newbusiness@vumigroup.com, titled "Approval Conditions." The certificate of coverage will be attached as a PDF with all of your policy information as shown in the image below.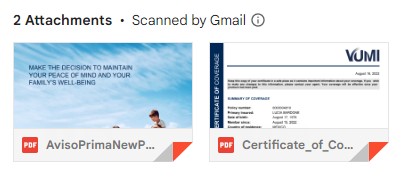 Once you have collected this information you can apply payment online here.
If you are our client and wish to do any changes to your policy, or are having any problems, please contact our renewal manager Jason.
Renewal Manager
Jason Wellner
or +1 (312) 358-8136 through SMS or WhatsApp.
**Note** If you are setting up monthly payments, an additional form is typically required to initiate the payment plan. Contact Jason to complete the form online, or you can fill it out by clicking the link below.
VUMI Payment Authorization Form
If you would like to pay with a different payment option than credit/debit card feel free to reach out to Jason with your preferred method and we can take care of it for you.