Azimuth's Meridian Series offers two options: worldwide coverage or worldwide coverage excluding the US and Canada. Both options provide coverage 24 hours a day, 7 days a week allowing you to choose any doctor or hospital for treatment.
How to apply
To apply for an Azimuth policy, navigate to Azimuth's products page. There, you can download the brochures for Azimuth's Beacon (travel plan), Meridian Essential and Enhanced plans (their standard major medical insurance policies), the Meridian Clear plan (designed to provide coverage for clients who "may not have qualified for other international medical plans, either because of suboptimal health conditions, or have an immediate need for coverage. Clients who qualify medically and are more than 14 days old and under the age of 65 who either live outside of the United States, or who would not qualify for a US domestic health insurance plan as a result of their citizenship status" may apply for the plan).
Once you have reviewed these brochures, and decided which plan is right for you, you can download the application, print, fill it out, and sign it, then fax it to 888-201-8851 or 317-423-9620 if paying by credit card.
If paying by check, we recommend first faxing the application to the number above then mailing the completed application and and payment to:
Azimuth Risk Solutions
8520 Allison Pointe Blvd, Suite 220
Indianapolis, IN 46250
USA
In order to fill out the premium calculation (Section 4, page 6), refer to the table at the bottom, which shows the premiums due by age and deductible for each applicant. Be sure to refer to the correct table, whether you're including or excluding coverage in the US and Canada.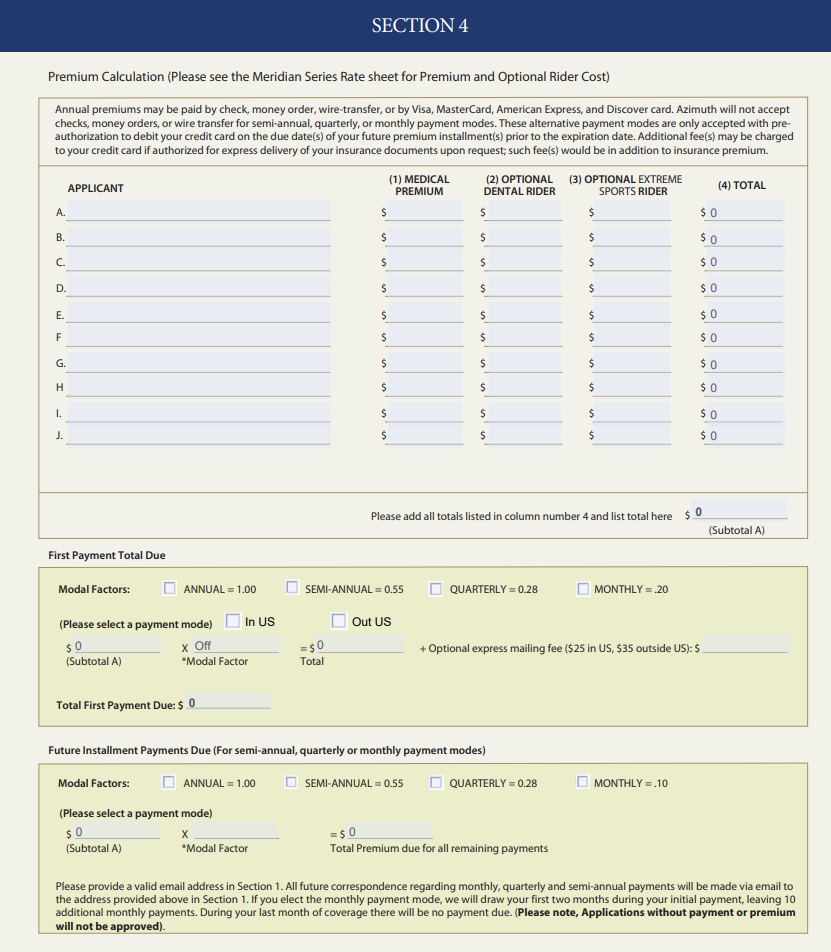 List the names of each applicant with that individual's medical premium from the table at the bottom, the costs of their optional dental and extreme sports riders and the total for each applicant. Put the sum of those total costs in the box listed Subtotal A.
After you have calculated Subtotal A, fill out the two yellow boxes, which will show the quotients by which to multiply your annual premium based on your modal factor (annual, semi-annual, quarterly, or monthly). As you can see, the annual mode of payment is the most expensive, but also the most cost-effective as every other mode has an additional premium attached: (semi-annual 10%, quarterly 12%, or monthly 20%). These boxes will tell you the amounts due for the first month, which includes a one-time processing fee, and for each subsequent month.
Reach out to your Expat Insurance broker for a simpler application process. Our brokers are knowledgable about all the different products Azimuth offers, and can help you choose the plan that's right for you. You can even begin the application process now through our smart portal.
What is needed to apply:
Application - Submit an online, or paper application to us

Identification - Scan of a government-issued ID for all applicants

Proof of Residency - Most commonly asked is either a resident visa, or proof of address (rental lease, utility bill, bank statement, etc.)

Medical Records - Not needed at time of applying, but insurers will generally ask for medical records after you submit an application if you have a major preexisting condition. Most commonly asked-for items are a written diagnosis from your previous physician, and/or recent lab work showing the extent of the condition.
You can read more about the general application process for international insurance in this article.