Long-term Health Insurance
GeoBlue's Xplorer Essential and Premier health insurance policies are very popular among US Citizen expats. GeoBlue is the international arm of the US-based BlueCross/BlueShield.
You can consult the brochure (and application) here.
To apply for a policy from GeoBlue, you can print and fill out the application in the link above and return to the addess below or to your agent.
GeoBlue
Attn: Individual Underwriting Department
933 First Ave.
King of Prussia, PA 19406
USA
In order to expedite your application, you can fax it to +1 (610) 482-9953 or email underwriting@geo-blue.com.
What is typically needed to apply:
Application - Submit an online application to us

Identification - Scan of a government-issued ID for all applicants

Proof of Residency - Most commonly asked is either a resident visa, or proof of address (rental lease, utility bill, bank statement, etc.)

Medical Records - Not needed at time of applying, but insurers will generally ask for medical records after you submit an application if you have a major preexisting condition. Most commonly asked-for items are a written diagnosis from your previous physician, and/or recent lab work showing the extent of the condition.
You can read more about the international application process in this article.
Short-term (Travel) Insurance
Learn the difference between travel insurance and comprehensive international health insurance in this article.
GeoBlue offers two types of travel insurance: the Voyager plan for a single trip and the Trekker plan for multiple trips abroad. As travel insurance is far less comprehensive than major medical insurance, so too is the application process much simpler. Please note that GeoBlue's travel insurance policies are only available to individuals who have not yet left the United States.
To apply, simply navigate to this link, enter your US zip code and click GET YOUR QUOTE. On the following screen, you can read the policy benefits of the Voyager Choice plan, elegibility details, and a long list of FAQ's. If you are not enrolled in a primary healthcare plan, you are only eligible for the Voyager Essential plan. (The quote and purchase process is the same.)
In the box titled SINGLE TRIP QUOTE, select wether you already have primary health insurance, enter your travel dates (if you will be traveling for more than 6 months, consider purhcasing a longer-term policy) and your age, and click QUOTE NOW.
On the following page, you will see two sliding bars. The top bar represents the limit to coverage between $50,000 and $1 million and the bottom bar lets you select a deductible between 0 and $500. Select both of these parameters, and click APPLY NOW. If you are already a GeoBlue policyholder, you can log in with your username and password; if not, select CONTINUE AS GUEST.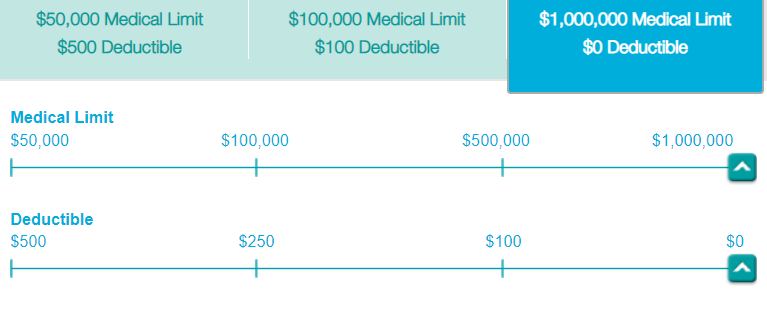 Fill out the traveler information and read the acknowledgement of key plan provisions and terms of policy issuance, checking the field acknowledging your acceptance and select CONTINUE TO PAYMENT. As underwriting for travel policies only occurs in the event of a claim (and not at the time of purchase), your policy will be instantly approved as soon as you make your payment on the following page.